Nespresso® Capsules » What you should know if you want to buy Nespresso® capsules
The Nestlé Group is behind the Nespresso® brand and the idea (Nespresso® capsules) of dosing a perfect cup of coffee in a small capsule. This innovative coffee system was invented in 1986 by engineer Eric Favre. However, the capsule did not become popular until the 1990s.
Nestlé is one of the largest and oldest food producers in the world.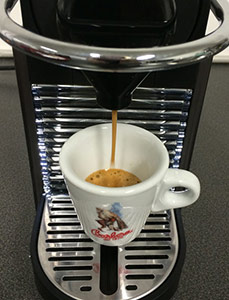 In the beginning, it was only possible to use original Nespresso® capsules in a specially developed Nespresso® machine. It was a closed system. After the patent protection expired, however, many roasters were quickly willing to join the widely used system. They themselves brought cheaper alternatives onto the market, in some cases as so-called "compatible capsules".
The production of the Nespresso® machines also became possible for other coffee machine manufacturers, so that there are a large number of them today.
There is a wide range of different capsules for your Nespresso® machine. Everyone can quickly produce a delicious cup of coffee according to their taste. For example, you can make a ristretto, espresso, lungo or americano with your machine. If your machine has a milk frother, you can also prepare different types of coffee drinks with milk, such as cappuccino or caffè latte. Genuine Italiano.
What else should you know before you buy your Nespresso® capsules?
What variations are available for Nespresso® capsules?
There are different types of capsules for Nespresso® from which you can choose. Several different coffee manufacturers sell both Nespressos® branded coffee capsules and Nespresso® compatible capsules. It is therefore likely that you will find a capsule that suits your taste.
Of course, the coffee in the capsules, just like bean coffee, comes from different regions all over the world. Each country and cultivation area contributes to its own This is clearly reflected in the unique taste. The aroma of the coffee develops as soon as the coffee beans ripen in the coffee cherry.
The roasting plant then refines each variety of beans by adapting the roasting process to the required bean profile.
Those who prefer coffee with an intense and sweet taste should choose dark roasted beans. On the other hand, those who prefer coffee with a slightly fruity taste are advised to choose a blend of light to medium roasted Arabica beans.
Nespresso® compatible capsules - The advantages
There are many advantages of buying Nespresso® compatible capsules. The first and most important reason is that you have the possibility to choose from a variety of suppliers, because it is a so-called "open system". They are not tied to the varieties and the price policy of Nespresso®, and often the compatible capsules are even cheaper than the original capsules.In addition, you can try many different flavors. Since almost all roasters also offer their coffee as capsules, you can enjoy your favourite coffee at home in the fully automatic coffee machine and the same coffee as a capsule in the office.
As an environmentally conscious person, you may wish to avoid the use of environmentally harmful aluminium capsules. Because there are now compostable compatible capsules available. There are also capsules that are labelled with the "Fairtrade" or "Rainforest Alliance" product label and thus support fair trade.
Nespresso® compatible capsules have the same shape as the original and are therefore suitable for all machines. Some compatible capsules are made of plastic or compostable material.
Loss of warranty for Nespresso® coffee machines?
You don't have to worry about losing the warranty by using Nespresso® compatible capsules for your device. Every week we sell several thousand compatible capsules. We have rarely heard that a machine would have broken down because someone had used compatible capsules.
The most common causes of a defective machine are usually irregular cleaning, insufficient descaling, or sometimes a production error.
It is therefore important that you do not damage the machine due to insufficient descaling or cleaning. We, therefore, recommend that you read the operating instructions of your machine carefully.
Nespresso® machines Descaling
For proper maintenance of your capsule machine, it is important that it is adjusted correctly on a regular basis. We recommend that you descale your machine regularly. The distances also depend on where you live, because the amount of calcium in the water varies from area to area. It is recommended that you use previously filtered water. This also improves the taste of the coffee considerably.
If the brewing time is longer than usual or if the pressure in the machine is reduced or if it starts to drip at the outlet of the machine, it may be an indication that the machine should be descaled.
Decalcifying your coffee machine thus extends the lifetime of the device. Then make sure that the coffee is at the right temperature and the right volume is in the cup.
By decalcifying the coffee machine, the water can flow faster through the machine. Too loud noises and malfunctions are thereby avoided.
The best way to descale a Nespresso® machine is to use a descaling tablet. We recommend either an original tablet or a cheaper version that can be used to descale your Nespresso® machine.
The tablet should be dissolved in fresh water, which you pour into the water container of the machine. Set up the water tank and start the descaling program on your machine.
The use of general descaling agents or vinegar is not recommended in the instructions for use. Almost all heating elements of your machine are made of aluminium. These parts can be corroded by vinegar. Moreover, vinegar is not effective enough against calcium.
Maintenance of your Nespresso® machine
In addition to descaling, it is recommended to empty the water tank regularly when is not in use. To ensure that you always use clean water, you should also wash the water tank regularly.
A cleaning needle can also be used. If you buy a machine, such a needle is included in the delivery. By using the needle regularly, you can be sure that the machine is kept clean.
Capsules for Nespresso® - a perfect taste experience every time
At Espresso-International we have a carefully selected range of coffee capsules for Nespresso® machines. With us you will not only find capsules such as Espresso and Lungo, but also decaffeinated coffee. We attach great importance to quality and taste! We concentrate on being able to offer the widest possible range of coffee capsules.
You can also find Nespresso® trial sets with us. Choose coffee capsules from our over 30 Italian gourmet roasters and discover your personal favourite coffee. Or vary your drink as you wish. For example, a cappuccino in the morning, an espresso after dinner and a decaffeinated capsule variant for the evening.
Organic coffee capsules - same good taste - same price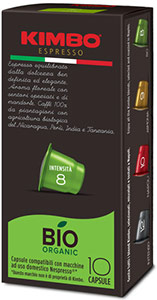 Espresso-International also offers organic coffee capsules. It is important to us and our customers to reduce environmental pollution. We would like to see even more types of coffee being grown ecologically and are happy to include coffee capsules from our roasters with the BIO certificate in our range. At the moment we can offer 5 different types of coffee that are grown organically.
For example, try our bestseller in organic capsules, Hardy Zanzibar, which is made from 70% Arabic beans and 30% Robusta beans. These organic capsules convince by an intensive acidity, which is rounded off by a light sweetness. It's light brown crema and a scent of freshly cut grass, with notes of bittersweet citrus, will enchant you. Or try our Nespresso® capsules Organic from KIMBO, which offers a round, full, and creamy taste experience with noticeable nuances of fresh flowers, almonds, and spices.
Espresso or Lungo coffee capsules - which is your favourite?
Our selection of Nespresso® espresso coffee capsules consist of 34 different roasters, each with different varieties in the range. Arabica beans are mainly used in our espresso capsules. But we also have varieties such as Espresso Roma and Venezia, which contain both Arabica and Robusta beans. This gives the coffee more depth, intensity, and a nice dense crema. All of our espressos also taste great as latte macchiato, cappuccino, or as Americano.
An espresso is a small cup of coffee with a concentrated and intense taste. A lungo needs more water and is equivalent to a "normal" cup of coffee. It is usually milder and softer in taste. We can offer 3 different types of lungo coffee; Julius Meinl, Kimbo, and Cellini. All 3 offer a balanced and full taste experience.
We make no compromises in the quality of our Nespresso® coffee capsules
Espresso-International is committed to provide all customers with an extensive assortment. From gourmet and specialty roasters, major brands to small family businesses, and undiscovered treasures, you will find everything that makes the heart of an espresso fan beat faster. This is one of the reasons why we here at Espresso-International offer over 100 different types of coffee capsules. We are sure that one of our coffee products will also suit your taste.
The expiry date of the capsules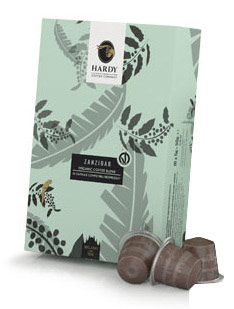 The coffee capsules have a rather long expiry date. This means that you can easily buy large quantities in advance. The capsules are made so that you don't have to worry about the freshness of the coffee. Nevertheless, we advise to keep the products reasonably cool during longer storage periods.
Coffee capsules - an unbroken trend
Rarely have new products caused such a stir in the coffee world. The coffee capsules are so popular today that production has doubled in recent years. The capsules are interesting for everyone. Whether in a single household, in the family, or in the office, the capsules with the different taste possibilities are consumed nowadays almost everywhere.
Anyone who owns a capsule machine can prepare their drink according to their mood with the appropriate coffee capsules. Fast, clean and simple. The result in the cup is always consistently good. Due to the great demand, the machines are now produced by many different manufacturers. A circumstance which has a positive effect on the price. The purchase of a Nespresso® machine is not a large investment compared to a fully automatic coffee machine or
portafilter machine. This means that expensive machines are no longer needed for individual gourmet drinks, which allows access to more people.
The flexibility of the open single-serving system gives coffee drinkers worldwide a great advantage. There are hardly any drinks that cannot be made with the capsule. Whether tea, chai latte, latte macchiato, cappuccino, espresso, cocoa, lingo, or classic coffee: there is something for everyone.
Buy Nespresso® capsules - Mix your favourite coffee capsules yourself
At Espresso-International ("Nespresso® Shop Feeling", as an enthusiastic customer wrote us), you can mix your own Nespresso® capsules in packs of 10 capsules and choose exactly the varieties that best suit your taste. If you have not yet tested the coffee capsules from Espresso-International, we recommend that you order our Nespresso® Tasting Sets. Here you can taste 8 of our delicious coffees in peace and harmony together. Find your favourite coffee in this simple way. Each set contains 2 Nespresso® capsules of each type - let yourself be surprised by our selection.
Buying Nespresso® capsules made easy :)